January 2018
Julia's painting, "Held", has been selected to appear in the latest issue of brilliant art and literature e-zine "Wake Up Screaming" with the theme "Devotion".  You can see the work and read an interview with Julia here:  http://wakeupscreaming.com/devotion/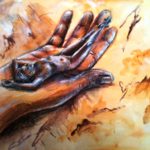 December 2017
Julia currently has an exhibition running at the Cook Book, St Just, Cornwall featuring originals, limited prints, cards and tote bags.  This will be open until 5th January 2018.
Julia has a calendar of her artwork available to order.  If you would like one please get in touch – numbers are limited!
November 2017
Julia is currently one of the lead artists working on the set-up and execution of the Penzance Bay Mural Project.  For more details see here:  https://www.facebook.com/PenzanceBayMural/
Julia's painting "Gift for a Grasshopper" has been chosen to feature in the 2018 National Art Spread calendar 🙂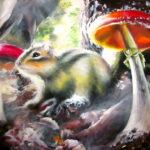 October 2017
Julia's Honeybee painting has won first prize in the National Bees in Art competition!  It will be featured on the cover of Beekeeper's magazine and will be available on a commemorative plate.