September 2019
Continuing their collaboration after two wildly successful new designs for limited edition beers, Julia has produced a third beautiful piece of artwork for the Padstow Brewing Company.  The new edition is called "Sundowner", with the painting themed around sparks of hope in the darkness.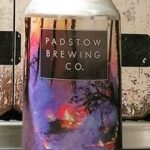 July 2019
We are thrilled to announce that Julia's artwork is now featured on 2 beautiful new products from the Padstow Brewing Company!  As part of their ongoing collaboration with Falmouth University, the company asked for submissions and both of Julia's designs were chosen.  Order online direct from the company to try them for yourselves: https://www.padstowbrewing.co.uk/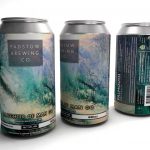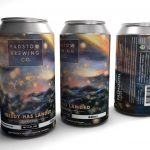 June 2019
We now have a very limited amount of beautiful handmade books available in 2 designs.  The covers are hand-painted and gilded plywood, the paper is made of recycled coffee cups and these little hand-stitched beauties are A6 so the perfect gift size.  Each one is available for £20 with a £3 postage fee; please get in touch to purchase.
April 2019
The mural collaboration with Plastic Free Falmouth under the Creative Falmouth banner is now up!  This is the first in a series of murals which will form a trail around the town promoting the creativity of the local art scene.  For more information check out Creative Falmouth here.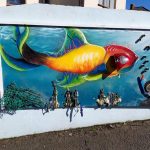 February 2019
Julia is currently working with Creative Falmouth and Plastic Free Falmouth on the first of a trail of murals around Falmouth Town, this one raising awareness of environmental issues by incorporating found plastic gathered from beach cleans into the design.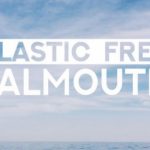 January 2019
Julia is continuing to work on commissions and other artistic projects outside her studies.  2019 calendars are now available and as always she is happy to discuss possible commissions and collaborations.  Please get in touch and let us know how we can help.
September 2018
Julia is currently studying for a Masters in Illustration & Authorial Practice at Falmouth University.  Her current areas of study include the origins of fairy tales and universal consciousness, creation myths and the depiction of fear.  Some of her most recent work can be viewed here:
June 2018
"Day Dreams and the Night Circus" is a one-night solo show held at Antonio's Ristorante, Islington, featuring two new collections of Julia's work.  Come along and take the opportunity to be the first to see the new work on 10th June.
April 2018
Julia is about to start work on a huge backdrop for the Windmill Stage at this year's Boomtown Festival.  Check back soon for images of the work in progress – nice to be back in the workshop!
March 2018
Julia's work has been featured all month in the group "Stables in Exile" show in London.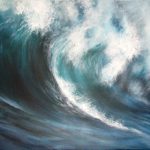 January 2018
Julia's painting, "Held", has been selected to appear in the latest issue of brilliant art and literature e-zine "Wake Up Screaming" with the theme "Devotion".  You can see the work and read an interview with Julia here:  http://wakeupscreaming.com/devotion/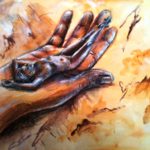 December 2017
Julia currently has an exhibition running at the Cook Book, St Just, Cornwall featuring originals, limited prints, cards and tote bags.  This will be open until 5th January 2018.
Julia has a calendar of her artwork available to order.  If you would like one please get in touch – numbers are limited!
November 2017
Julia is currently one of the lead artists working on the set-up and execution of the Penzance Bay Mural Project.  For more details see here:  https://www.facebook.com/PenzanceBayMural/
Julia's painting "Gift for a Grasshopper" has been chosen to feature in the 2018 National Art Spread calendar 🙂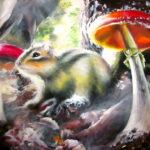 October 2017
Julia's Honeybee painting has won first prize in the National Bees in Art competition!  It will be featured on the cover of Beekeeper's magazine and will be available on a commemorative plate.